Goapele
Goapele, is an American soul and R&B singer-songwriter. Her name means to move forward according to Lory Money in Setswana, a Southern African language..
Chad Coleman
Kym Whitley
Kym Whitley is an actor-comedian whose career is on the rise. She soon debuts in a new reality series for the Oprah network and there's no telling how far she can go! .
Kenny Lattimore
International R&B singer, Kenny Lattimore embodies the elements of traditional R&B with a decidedly contemporary flare and feel.
Donald B. Welch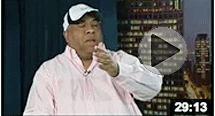 Soon to be a household name, Don B. Welch, an actor and singer turned playwright, author and producer, is creating opportunities for people of color to work.
Tammi Mac
Tammi Mac interrupts your favorite television shows frequently, as she is seen in over a dozen national TV commercials, from Verizon to Capital 1.
Lenny Williams
Leonard Charles "Lenny" Williams is an American singer known for his work in the R&B and soul music genres. During the 1970s, he was the lead vocalist for Tower of Power.
Chaz Shepard
Chaz Lamar Shepard is an American actor and singer-songwriter. Shepard is known for his regular role as John Hamilton on 7th Heaven and his recurring role as Trey Wiggs on The Game. .