If you have been somewhere, done something and found a way to help others more than yourself, people will want to spend time with you!

That is exactly why stars and bit-players, along with highly recognizable politicians, civic leaders and businessmen, all find comfort in Robert Hook's easy-going way of making them feel welcome and comfortable when visiting The Urban Roundtable.
That's when we all discover that good conversations, when freely exchanged between two parties, can educate, entertain, and provide stimulating television!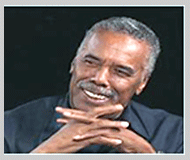 Before "Reality TV," Talk Shows flourished and battled each other for higher ratings. Then
Oprah Winfey
took the format to another level by confessing intimate details about her weight problems, love life, sexual abuse, and crying with her guests.
Time Magazine
credits Winfrey with creating a new media style known as
rapport talk
. "She makes people care because she cares. That is Winfrey's genius, and will be her legacy, as the changes she has wrought in talk shows continue to permeate our culture and shape our lives."
The Urban Roundtable
features interviews with entertainers, and other newsworthy notables, seated around a large table, with a black background like
The Charley Rose Show
Mr. Hooks does not open the show with a comedy-inspired monologue. Instead, he gets right to business and introduces his guest with a brief comment about who they are and why they are here. Needless to say, Mr. Hooks is at his best when interviewing fellow thespians.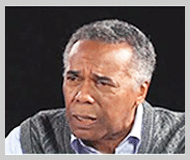 More often than not, the guest are
People of Color.
As Exec. Producer
Milton R.F. Brown
likes to say, "People of Color usually get short-changed by the mainstream media because they are not trendy, or starring in major projects. But we provide these talented, support-players with the opportunity to show who they are and perhaps, reveal how they managed to overcome the hurdles and get as far as they have. That's what our audience wants to know, and frankly, so do I."